Granuloma piógeno oral recurrente con pérdida ósea alveolar y movilidad dentaria: Reporte de un caso inusual
Resumen
El granuloma piógeno oral es una lesión benigna multifactorial, caracterizada por presentarse como un agrandamiento gingival muy vascularizado. Se puede localizar en cualquier área de la cavidad oral, con más frecuencia en la encía marginal vestibular. Se presenta con mayor incidencia en mujeres adultas y en niños varones. No suele comprometer tejido óseo ni dientes y su tratamiento más seguro es la exéresis quirúrgica, siendo el riesgo de recurrencia alto. El objetivo del presente estudio es reportar el caso de una paciente de 9 años de edad, que fue sometida a la exéresis de un granuloma piogénico oral en el hueso maxilar y al año siguiente presentó una recurrencia de la lesión con pérdida ósea alveolar y movilidad de un diente adyacente. Se le realizó una biopsia y un curetaje minucioso, confirmándose el diagnostico de granuloma piogénico oral.
Citas
1.Al-Khateeb T, Abhabneh K. Oral pyogenic granuloma in Jordanians: a retrospective analysis of 108 cases. J Oral Maxillofac Surg. 2003; 61:1285-8.
2.García I, Hinojosa A, Aldape B, Valenzuela E. Hemangioma lobular capilar (granuloma piógeno) asociado a la erupción: reporte de dos casos clínicos. Rev Odont Mex. 2004; 8(4):127- 32.
3.Sharma S, Chandra S, Guptya S, Srivastava S. Heterogeneous conceptualization of etiopathogenesis. Oral pyogenic granuloma. Natl J Maxillofac Surg. 2019; 10:3-7.
4.Concepción L, Belmonte R, Acosta M, Torres E, Infante P, Torres D, Gutierrez JL. Manejo del granuloma piógeno gigante. Revista SECIB. 2005; 4: 74-89.
5.Kamal R, Dahiya P, Puri A. Oral pyogenic granuloma: Various concepts of etiopathogenesis. J Oral Maxillofac Pathol. 2012; 16(1):79.
6.Papageorge MB, Doku HC. An exaggerated response of intraoral pyogenic granuloma during puberty. J Clin Pediatr Dent. 1992;16(3):213–6
7.Chandrashekar B. Minimally invasive approach to eliminate pyogenic granuloma: A case report. Case Reports in Dentistry. 2012; 26. doi:10.1155/2012/909780
8.Isola G, Matarese G, Cervino G, Matarese M, Ramaglia L, Cicciù M. Clinical Efficacy and Patient Perceptions of Pyogenic Granuloma Excision Using Diode Laser Versus Conventional Surgical Techniques. J Craniofac Surg. 2018; 29(8):2160-3.
9.Epivatianos A, Antoniades D, Zaraboukas T, Zairi E, Poulopoulos A, Kiziridou A, Iordanidis S. Pyogenic granuloma of the oral cavity: comparative study of its clinicopathological and immunohistochemical features. Pathol Int. 2005; 55: 391-7.
10.Thada SR, Pai KM, Agarwal P. A huge oral pyogenic granuloma with extensive alveolar bone loss and 'sun-ray' appearance mimicking a malignant tumour. BMJ Case Rep. 2014; 3:101-36.
11.Dojcinovic I, Richter M, Lombardi T. Occurrence of a pyogenic granuloma in relation to a dental implant. J Oral Maxillofac Surg. 2010; 68 (8): 1874-6.
12.Silk H, Douglass AB, Douglass JM, Silk L. Oral health during pregnancy. Am Fam Physician. 2008; 77 (8): 1139-44.
13.Saravana GH. Oral pyogenic granuloma: a review of 137 cases. Br J Oral Maxillofac Surg. 2009; 47(4):318-9.
14.Santa Cruz D, Plaza JA, Wick MR, Gru AA. Inflammatory lobular hemangioma (ILH): a vascular proliferation with a prominent lymphoid component. Review of a series of 19 cases. J Cutan Pathol 2020. Doi: 10.1111/cup.13844.
15.Kaya A, Kaya B. Oral pyogenic granuloma. Review of 10 cases. Indian J Med Res Pharm Sci. 2015; 2:44-8.
16.Tiwari S, Neelakanti A, Sathyanarayana S. An innovative and less invasive management of recurrent pyogenic granuloma in the esthetic zone: A case report with 18-month follow-up. J Indian Soc Periodontol. 2017; 21:241-4.
17.Hasanoglu GN, Senguven B, Gultekin SE, Cetiner S. Management of a recurrent pyogenic granuloma of the hard palate with diode laser: A case report. J Lasers Med Sci. 2016; 7:56-61.
18.Al-Noaman AS. Pyogenic granuloma: Clinicopathological and treatment scenario. J Indian Soc Periodontol. 2020; 24:233-6.
19.Rebolledo M, Harris J, Cantillo O, Carbonell Z, Díaz A. Granuloma telangiectásico en cavidad oral. Av. Odontoestomatol. 2010; 26 (5): 249-53.
20.Mohapatra S, Singh K, Singh L, Kumar P. Oral pyogenic granuloma: A review. Journal of Odisha Dental Association. 2014; 3(1): 5-9.
21.Angelopoulos AP. Pyogenic granuloma of the oral cavity: Statistical analysis of its clinical features. J Oral Surg. 1971; 29:840–7.
22.Silverstein L, Burton CH. Jr, Singh B. Oral pyogenic granuloma in pregnancy. Int. J. Gynaecol. Obstet. 1995; 49:331-2.
23.Shenoy SS, Dinkar AD. Pyogenic granuloma associated with bone loss in an eight-year-old child: a case report. J. Indian Soc. Pedod. Prev. Dent. 2006; 24:201-3.
24.Goodman-Topper ED, Bimstein E. Pyogenic granuloma as a cause of bone loss in a twelve-year-old child: report of a case. ASDC J. Dent. Child. 1994; 61:65-7.
25.Ababneb K, Al-Khateeb T. Aggressive pregnancy tumor mimicking a malignant neoplasm: a case report. J. Contemp. Dent. Pract. 2009; 10: E072-8, 2.
26.Singh RK, Kaushal A, Kumar R, Pandey RK. Profusely bleeding oral pyogenic granuloma in a teenage girl. BMJ Case Rep. 2013. Doi:10.1136/bcr-2013-008583.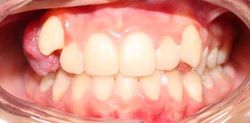 Cómo citar
Lévano Loayza, S. A., & Yupanqui Pellanne, A. (2021). Granuloma piógeno oral recurrente con pérdida ósea alveolar y movilidad dentaria: Reporte de un caso inusual. Odontoestomatología, 23(37), e404. https://doi.org/10.22592/ode2021n37a10
Derechos de autor 2021 Odontoestomatología
Esta obra está bajo licencia internacional
Creative Commons Reconocimiento-NoComercial 4.0
.